Operations:
Reverse Beacon Network
Identify band openings, see if you are getting out, and discover other CW operators on the air.
NCDXF/IARU International Beacon Project
World-wide beacon network that broadcast on a rotating schedule across 14.100, 18.110, 21.150, 24.930, and 28.200Mhz. The beacons send at 22wpm followed by four one-second dashes sent at 100, 10, 1, and 0.1 watts. At the end of each 10 second transmission, the beacon steps to the next higher band and the next beacon in the sequence begins transmitting.
VOCAP
Free professional HF propagation prediction software from NTIA/ITS, and originally developed for Voice of America (VOA).
Proppy
Web application for HF propagation prediction. Excellent and easy to use!
POTA (Parks on the Air)
Popular option for getting outdoors and on the air. CW is a great option for low power operations! Check out their dedicated Facebook group.
SOTA (Summits on the Air)
Popular option for hiking summits and getting on the air. CW is frequently used! Check out their dedicated Facebook group.
WWFF (World Wide Flora & Fauna)
Another popular option for hiking summits and getting on the air. CW is frequently used!
How to Adjust Morse Keys and Paddles
In depth discussion on how to make adjustments
Books:
Compendium of Automatic Morse Code by Ed Goss (N3CW). It is an excellent hardback book with informative text and over 1,100 high-quality photos covering Morse code devices from the early 1800s to today. (The link provided goes to Amazon, but it is available from other retailers.)
Music:
CQ Serenade by Maurice Durieux, VE2QS
This is a delightful song produced sometime between 1965 and 1970. Words and music by the late Maurice Durieux, VE2QS, symphony conductor, arranger, and violinist, VE2BR, Noel Marcil. Vocals by Ms. Joyce Hahn.
Communication by Slim Gaillard
Catchy song calling out CQ (Dah Di Dah Dit, Dah Dah Di Dah).
Essays:
Go with the Flow by Nancy Kott WZ8C (Silent Key) on
Why hams fall in love with CW
Instant Recognition by Nancy Kott WZ8C (Silent Key) on
A Better Method of Building Morse Code Speed
Iambic Keying – Debugging The Myth by Marshall Emm (N1FN)
Iambic or "squeeze" keying is one of the "Great Expectations" in CW operations. Good or Bad idea?
All about Squeeze-Keying by Karl Fischer (DJ5IL)
Excellent analysis and in-depth history of different keying modes. Also check out DJ5IL's extensive amateur radio website.
Learning and Using Morse Code by Bob Nellans (K9DE)
Good read with sage advice on avoiding to count dits and dahs
Humor:
FCC to Reinstate Morse Code Test
Delightful April Fool's joke
Morse code versus T9 Texting
Jay Leno set up a runoff between old and new school technology on The Tonight Show on May 13, 2005. Chip Margelli (K7JA) was at the key, while Ben Cook, the Guinness World record holder for speed text-messaging, sent a text message.
Social Media and More:
Dit Dit Podcast
Popular podcast focused on Morse code
K9YA Telegraph Newsletter
Free high-quality newsletter that often has CW related articles. Subscribe here.
CW Academy
Official Facebook group for CW Academy
CWOps Members
Facebook group for the members of CWOps
Learning CW Code
Facebook group. Great for connecting with others learning Morse code.
CW Morse Code Fans
Perhaps the largest and most active Facebook group focused on Morse code.
Straight Key Users of Morse Code
Facebook group
Open UZ2M Morse Runner Contest
Facebook group with friendly competition. See who can get the highest score in Morse Running in 10 mins.
Clubs:
CWOps
Organization that promotes CW and helps others learn Morse code.
Long Island CW Club Training
Club that offers Morse code classes most days of the week
FISTS
The International Morse Preservation Society
FOC
First Class CW Operator's Club
NAQCC
North American QRP CW Club
SKCC
Straight Key Century Club
Key Manufacturers (Active):
Software:
CW Skimmer
Highly sensitive CW decoder that simultaneously decodes ALL CW signals in the receiver passband. There is a free 30-day trial. Afterward, a $75 registration is required.
Historical:
ARRL VE 20 WPM Morse Code Tests:
The Morse code proficiency requirement was removed from the Amateur Radio Service Part 97 rules on February 23, 2007. Until that time, the Amateur Extra class license required proficiency at 20wpm. Below are tests used to qualify applications.
McElroy Chart of Codes and Signals Poster from 1942: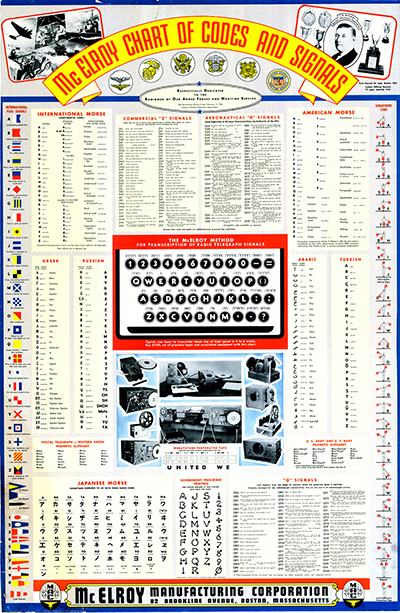 This well-known chart contains the International Morse code in English, Greek, Russian, Arabic, Turkish, and Japanese as well as spoken phonetic alphabets for radiotelephone use, International and Semaphore Flag signals, Q signals, and Z signals. It also contains American Morse.
Displayed prominently in the upper right is Theodore "Ted" Roosevelt McElroy. He was at first an American Morse wire telegrapher but later a radiotelegrapher. McElroy holds the world's record for copying five minutes of error-free Morse sent at 75.2 words per minute.
If you want a poster size print out, download this zipped up PDF. Consider using professional services to print it, such as FedEx or Kinkos. (Note that this originally came from the Internet Archive.)
Morsum Magnificant Magazine:
Magazine published from 1986 to 2004. There are 89 issues available on the Internet Archive. Personal use is allowed, but copyright is retained for commercial use.
Forward Looking:
AI Assisted Decoding
Check out this fascinating experiment by AG1LE to decode Morse code down to -3 dB SNR. Advances in artificial intelligence and machine learning are enabling new approaches to decoding morse code. Perhaps it is a matter of time before machines will perform better than even the most proficient operator at decoding Morse code under challenging conditions.